Workstations Made Smarter
The 'work smarter not harder' mantra is even more relevant with the return to work following the Covid 19 lockdown. Social distancing requirements in work areas has seen safety managers consider new ways of handling products with less people.
The opportunities for the use of lightweight lifting systems and smart handling devices are becoming wider with a greater choice of structural materials, lifting capacities and installation options all helping to open up the workplace to new solutions.
---
Lifts All tailor-make lifting tools that are easy to use, safe and ergonomic for many types of companies – from distribution and industrial companies, to pharmaceuticals and manufacturers. We design and manufacture pneumatic lifting tools, traverse systems, articulated jib cranes and spare parts, and we provide installation and maintenance services for all our products. Lifts All has years of experience and expertise in the field. We have produced over 5,000 unique lifting tools for all sorts of products from boxes, glass panes and metal sheets, to cogwheels and plastic rolls – for customers all around the world.
Enhanced working environments with ergonomic lifting tools
Lifts All lifting tools from DLH Online do the dangerous, repetitive physical lifting manoeuvres and create a better workplace for you – one with less accidents, physical exhaustion and work-related injuries.
Come talk to us about your lifting needs. Let us help you create a better and safer workplace for your colleagues.

Lifts All Multi-Tool Lifter
---
Easy. Sure. Modular.
The eepos modular crane system
eepos from DLH Online offers the advantages of a modular system right from the start. The intelligent modular system enables a wide range of services and efficient solutions. All eepos products are compatible with each other and complement each other so that extremely flexible tailor-made solutions can be implemented.
Your options are limitless

Combine the eepos light crane system with the lifting hoists of your choice, tool balncer or Lifts All smart handling tools.

eepos energy supply system eepos base can also be installed on the ceiling or on the floor, depending on your individual conditions.

See how the eepos crane system can be easily configured for your workspace
---
TOOL BALANCERS - The essential workstation tool
Tool spring balancers are ideal for use in workstations where heavy tools are commonly utilised in the same position in assembly line or bench tasks.
Possible applications of tool spring balancers include pneumatic tools, portable power tools and hydraulic tools, Resistance spot welding machines, X-Ray apparatus, Measuring machines, Compressed air equipment, XPower tools, Welding machines, Welding templates, Paint spraying apparatus and Cages. Whatever the required use, DLH Online has the right fit for you.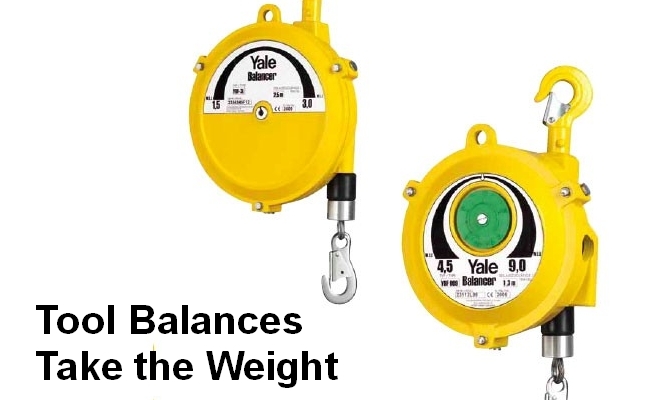 ---
Need Help with your workstation handling? - Talk to an Expert on 0161 223 1990 or email sales@dale-lifting.co.uk