Delta Standard Low Headroom High Load Safety Pallet Gate Safety Yellow Tube - Pallet Safety Gates - Pallet Handling - Material Handling
Delta Standard Low Headroom High Load Safety Pallet Gate Safety Yellow Tube
Key Features
Conformance with BS EN ISO 14122-3:2016.
Easy to install and simple to use - Instructions provided
Available with 4 standard widths 1.50, 2.00, 2.5 and 3.0 metres
Protects all personnel from falls from opening and contact with moving loads
Safety Yellow Thermoplastic coated tube and galvanised components - All parts are replaceable - CE marked
Delta Standard Low Headroom High Load Pallet Gate - Safety Yellow Tube
We offer this Delta standard made to order* model for pallets up to 2.0 metres high where headroom is 2.35 metres - Standard inside widths 1.5, 2.0,  2.5 and 3.0 metres
* Made to order approx 2-3 weeks
The Safety yellow Delta Low headroom high load mezzanine pallet gate system is the solution to a problem encountered in many mezzanine floors. How to provide an economic safety gate for high-level pallet loading where low ceiling headroom and high load requirements conflict.  Protects people from contact with moving loads and falls from the unprotected edge during fork truck loading access to the mezzanine floor.
Conforms to BS EN ISO 14122-3:2016 Mezzanine Gates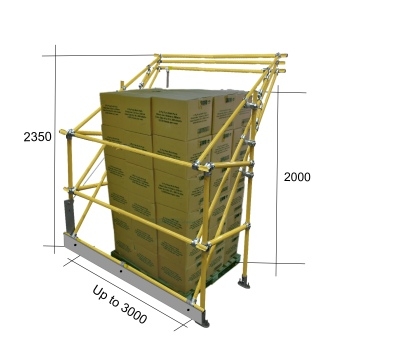 Dimensions:
Inside width 1500 mm, 2000 mm, 2500 mm, 3000 mm
Overall width = inside width + 250 mm
Inside depth 1500 mm
Overall depth 1600 mm
Side frame depth 750 mm
Max load height of 2000 mm
Overall height 2350 mm (This dimension allows at least 150 mm load clearance on inside height)
Handrail height 1100 mm
*Dimensions are approximate only. Due to differences in the tube clamps and the assembly process, the actual
dimensions may vary slightly. Any critical dimensions such as hole fixing centres should be determined when the product
is actually on your site. We reserve the right to change the design without notice.
Installation: Requires 8 x M12 Bolts/Anchors (Not included). 
Why use this safety gate system?
The Delta pallet gate design has proven the ideal answer to pallet loading issues. Low headroom, high load clearance, and space-saving side frames
Replaces swing gates, removable bars or chains which can be left open.
The innovative Delta safety gates have been specifically developed to provide fool-proof safety for personnel working a height. The design is ideal for many loading applications from standard pallets to exceptionally large loads on mezzanine floors, loading docks, and high-level platforms
 The Delta safety gate model is offered to bespoke requirements. See details below - Despatch generally around two weeks - Request a quote for the accurate timescale.
How It Works
The gates pivot up and down at either end of the load, cleverly hinged to automatically close the edge gate when personnel needs to enter the enclosed loading area. 
Delta Safety Gate System -  for standard pallets or special versions for specific applications are possible. 
Note - Delivery approx 2/3 weeks, please request a quote or contact us if this is outside of your requirements.
Features and benefits:
All Galvanised Tubular steel construction or with Yellow Thermoplastic (Warm Touch) Coated Tube
100 mm high Aluminium kick plate attached to the bottom edge gate
Gravity lock on edge gate with pull handle release.
Pull down/Push up swing tube
Supplied ready for simple installation (Partially dismantled for shipment)
High load clearance
Clear of floor edge when open
Balanced action provides easy opening
All parts are replaceable
Separates people from moving loads and falling from the unprotected edge
Allows a clear view of the operation
Reinforces a sense of security
Failsafe operation
Full specifications are shown in the Delta Cut Sheet Download PDF
Optional Special Features:  (You can tell us about any special dimensions or extras you require on the Custom gate page)
Special inside width up to 3000 mm
Special depth up to 2000 mm
Special height - 
Component Specification
Mezzbarriers tube clamps are made of malleable cast iron.  Manufactured in conformance with BS EN 1562:1997, a dependable and well-proven material for this type of product. The fittings are then hot-dipped galvanised to BS EN ISO 1461:1999 to produce a durable corrosion-resistant finished surface for extended life. Grub screws are stainless steel. Specially fabricated components are zinc sprayed as standard.
 Optional Extras
Additional handrailing to complete barrier infill or extend around your platform as required
Floor plate in aluminium chequer plate 1250 mm wide x 1150 mm deep with 100mm fold to protect edge (Recommended for wood floors). Order 2 for wider coverage). Delivery free when ordered with your Delta pallet gate
Hi-Vis Hazard warning Yellow/Black tube sleeves 1000 mm lengths - Easy to fit and cut to length (Sold separately
See below