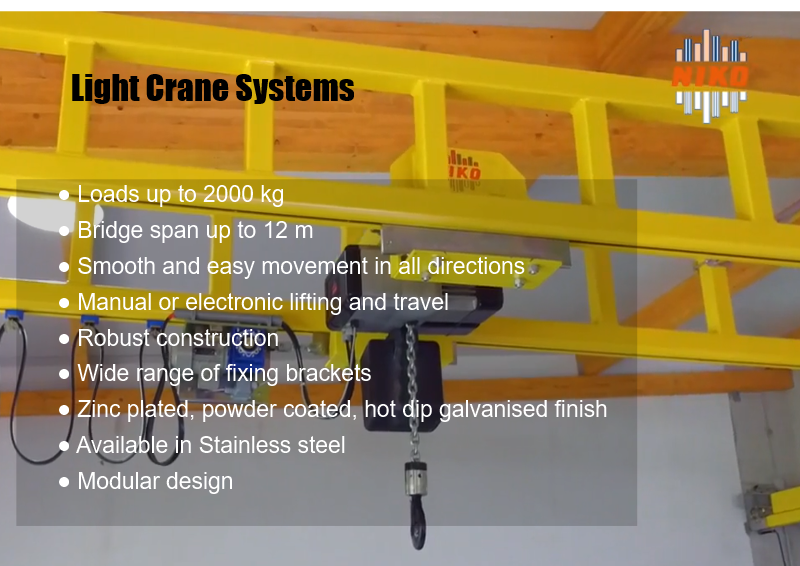 FEATURES
Niko C2 light cranes are the ideal solution for lightweight lifting of load capacities up to 2000kg. They are supplied in a modular kit form, which enables them to be easily assembled, modified or moved to accommodate changes in your working patterns. The construction of Niko C2 light cranes is considerably lighter, free-running, and more versatile than conventional I-beam overhead cranes.
Lift loads up to 2000kg
Bridge span up to 12m
Smooth and easy movement in all directions
Manual or electronic lifting and travel
Robust construction
Wide range of fixing brackets
Zinc-plated, powder-coated, hot-dip galvanized finish
Available in Stainless steel
Modular design
CEILING MOUNTED LIGHT CRANES
Ceiling mounted light cranes are an ideal solution for applications where floor space is at a premium. The light crane can be suspended directly or dropped down from the existing ceiling or building support beams. The Niko C2 range has a wide variety of suspension brackets to enable the light crane to be suspended from virtually any roof structure. The major advantage of this type of system is that the floor space is kept clear of supporting stanchions, enabling free movement underneath the light crane.
Layout Types
Light cranes usually comprise of 2 runway tracks running parallel with a bridge suspended below. The bridge enables a chain hoist or alternative lifting device to be suspended and travel from side to side along the bridge. The bridge can be travelled forwards and backward along the runway tracks. This enables to operator to lift, move, and lower a load anywhere within the working footprint below the light crane.
It is possible to have multiple light crane bridges suspended from the same runway tracks.
Single Girder Light Cranes
Single girder light cranes feature a single track bridge rail. This is the most common type of light crane system. The main advantage of single girder light cranes is that they offer the widest travel distance along the bridge and across the runway tracks.
Double Girder Light Cranes
Double girder light cranes feature a twin-track bridge rail with the hoist suspended so that the weight of the load is carried evenly across both rails. The main advantage of double girder light cranes is that they offer a wider span between the runways than a single girder equivalent. It is also possible to add an intermediate runway beam and enable an even longer bridge length.
Low-headroom Light Cranes
Low-headroom light cranes feature a double girder bridge with a raised suspension section for mounting the hoist or alternative lifting device. The Niko product offers the lowest available headroom solution on the market. As a standard, the hoist is suspended within 100mm of the crane support point and in some instances even less. The main advantage of Low-headroom light cranes is that they provide a lifting solution in confined spaces where overhead lifting would not normally be possible.