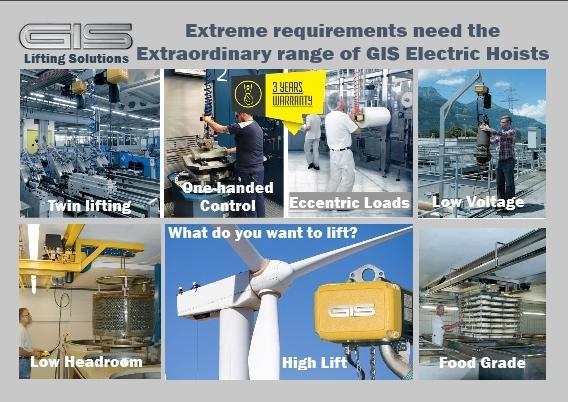 What do you want to lift?
GIS electric chain hoists are used everywhere, where the processes of safety crane systems is important: in the hard three-shift operations in the automotives and other high production industries, in dusty or chemical aggressive environments, for outdoor use, for the entertainment industry, for food preparation or for extreme lifting heights in wind power plants.
GIS electric chain hoists and trolleys are made to high standards. The safety factor of the load chain is at least 8 (DIN EN 14492 A5, ISO M5) which reduces wear and tear and increases the service life.
Is Your Industry included?
Sewage treatment plants - Agriculture and faming - Automotive industry - Construction industry Chemical and pharmaceutical - Wire / cable / rubber processing - Power supply / distribution - Transportation and storage - Glass processing industry Home technology / building automation - Woodworking - Municipal tasks - Kitchen building - Plastics industry Paints and coatings - Air transport / aviation - Machine industry - Medical technology Measuring and control technology - Metal / steel processing - Furniture / furnishings - Food industry - Surface technology - Public transport - Paper / cardboard industry - Transport and logistics Horology - Entertainment industry - Packaging Wind / hydroelectric power - Oil industry - Gas industry Shipyard / Shipbuilding and more…
The benefits to you are:
* Reliable and long-lasting with 3 year warranty
* Excellent quality made in Switzerland
* Chain safety factor minimum 8-times (DIN EN 14492 A5, ISO M5) Manganese phosphated profile steel chain with increased service life and improved dry-running properties
* Self-contained gearbox with permanent lubrication High safety in operation Low-wear DC-spring-loaded brake
*No sensitive electronics used
*Aluminium casing and cover
* Dry-running slipping clutch Area of application -15 °C to + 50 °C T
* ÜV certified
^ Easy to operate Low dead weight from 14 kg
* Compact housing with low headroom
* Modular in design
* Protection class IP65; suitable for outdoor use
* Geared limit switches with high accuracy in positioning of the highest and lowest hook position
* Ergonomic control switch with emergency stop 42 V low voltage control
* Quiet running with 3-step drive and helical gearing 2 speeds as standard
* Load hook rotated through 360°, with locking safety catch No special tools for maintenance needed
* Easy to maintain, wearing parts can be changed easily and quickly
* Customer specific
* Three- or single-phase power Worldwide operation and control voltages Direct control, special control, radio remote control, frequency inverter
* Special speeds Special versions such as synchronised electric chain hoist, low headroom version, corrosion resistant version, ATEX
* Eyebolt or hook suspension
* Lifting heights up to 200 m
* Hook path with upper and lower end position individually adjustable
* Temperature monitoring
* Operating data counter
* Extended temperature range
* Wide range of accessories and options (See brochure)
View GIS Range and
Request a Quote Online
GIS Electric Chain Hoists Model GP Video