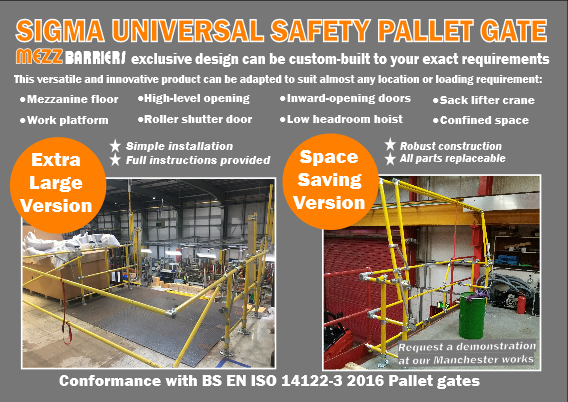 Fall protection for some high-level loading areas has been a difficult problem to solve until now. The unique Sigma universal safety pallet gate is proven to provide fool-proof safety that is not possible with removal bars, chains, swing gates or standard up-and-over pallet gates.
The top-selling Sigma universal pallet gate represents the gold-standard in the design of the safety pallet gate. This innovative product solves many problems that are beyond the range of standard pallet gates.
Developed by and exclusive to the MEZZBARRIERS range of fall protection gates, this model is positioned in a vast range of locations and is ideal for problematic loading sequences.
Discover your answer to fool-proof pallet handling today
Typical uses include but are not limited to:
Forklift or hoist loading
Mezzanine floors
Loading Docks
Work Platforms
Plant rooms
Balconies with openings
Sack picking vacuum crane operations
Low headroom hoist platforms
Confined space loading areas
Dual-use areas
Standard pallet width or extra wide loads with an inside width up to 3.0 metres
Standard pallet depth or extra deep loads with an inside depth up to 4.0 metres
Standard pallet height or extra-high loads up to 2.25 metres high
Features and benefits:
Modular flexibility

- Modular system designs adapt to on-site conditions
Flexibility to retrofit - replace broken sections or can disassemble for repositioning
Reduced corrosion - Hot dip galvanised finish with stainless steel hex screws
Reduces reparation - from welding, cutting, and grinding on site
Optional safety yellow thermoplastic tube coat with galvanised tube clamps
No-welding - of components eliminates the need for hot works permits and site shutdowns
Easy Assembly - Shipped with main sections pre-assembled for easy installation
Safety - Delivers a safer, quicker set-up and installation with little or no damage to the finish.
Instructions - Operating and installation instruction provided
Robust Construction - suitable for internal or external use
All parts are replaceable - in the event of damage in use
Warranty - Manufacturers 12-month parts
Fool-proof operation - Safe and simple to use
Conformance - with BS EN ISO 14122-3:2016 pallet gates design and test criteria
What do Customers say about the Sigma?
Challenge: Pallet loading in a high-level cleanroom opening with inward opening doors
The customer said: "Very impressed - I'm sure we will do business again in the future".
Challenge: Pallet loading on to a small external balcony with a roller shutter opening.
The customer said: "We have fitted the gate, and it works extremely well".
Challenge: Allow vacuum crane to pick sacks from pallet gate to load a discharge hopper.
The customer said: "We have searched the world for this solution".
Need to arrange a demonstration* or talk to an expert - Call 0161 223 1990 or Email mezzbarriers@dale-lifting.co.uk
*By appointment at our Manchester works dedicated demonstration area.