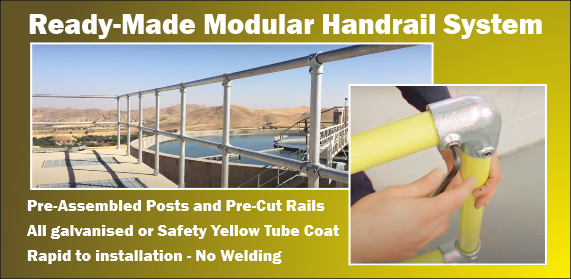 Pre-cut and jig assembled, they make installation so easy and time-efficient that anyone can do it.
Simply choose the posts and rails required and assemble on site: standard double rail. Hot-dipped galvanised to BS EN ISO 1461:2009 and alert safety yellow RAL 1021 thermoplastic (PPA 571 ES Warm-to-touch) coated tube. Also, double rail with kick plate and self-closing safety gate in conformance with BS EN ISO 14122:2016. Bespoke systems available to requirements.
A rapid assembly and cost-effective solution for industrial and workplace safety barriers. Robust and suitable for inside or outside use.
Typical Applications Include:
Pedestrian walkways
Personnel safety
Warehousing
Machinery guardrails
Social distancing
Zone segregation
Industrial handrailing
Fall protection
Loading bays
Mezzanine floors
Work platforms


---
Standard Double Rail Safety Yellow
C42 - 42.4 mm and D48 - 48.3 mm OD Ready-Made Posts and Handrail Kits in Safety Yellow Coated Tube
Buy C42 online »
Buy D48 online »
---
Standard Double Rail -All Galvanised
C42 - 42.4 mm and D48 - 48.3 mm OD Ready-Made Posts and Handrail Kits
Buy C42 online »
Buy D48 online » 
---
Double Rail with Kick Plate - Safety Yellow Tube
C42 - 42.4 mm and D48 - 48.3 mm OD Ready-Made Posts and Handrail Kits in Safety Yellow Coated Tube
Buy C42 online »
Buy D48 online »
---
Double Rail with Kick Plate All Galvanised
C42 - 42.4 mm and D48 - 48.3 mm OD Ready-Made Posts and Handrail Kits
Buy C42 online »
Buy D48 online »
---
Custom Handrail Systems Galvanised or Safety Yellow Tube
For Raised Platforms, Loading Docks, Mezzanines Floor, Steps, Staircases and Machine Guarding
---
Self Closing Retro-Fit Safety Gate 
Enables compliance to EN 14122,  These self-closing gates in Galvanised or safety yellow tube finish
Buy online Galvanised »
Buy online Safety Yellow »
---
Need Help? Talk to an expert call 0161 223 1990 or email sales@dale-lifting.co.uk - Send us a sketch for a no-obligation quotation