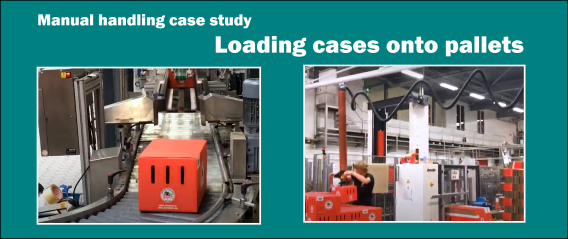 Case Study - Loading Cases onto Pallets
This case study, featured in an HSE guidance paper, highlights a typical problem of transferring full cases from a conveyor at waist level to a pallet at floor level by hand,
It outlines the problems inherent in the task and then offers some practical solutions available to provide safer handling.
Note: Contains public sector information published by the Health and Safety Executive and licensed under the Open Government Licence'.
Task
At the end of a bottling line, an operator transferred full cases from a conveyor at waist level to a pallet at floor level. The cases weighed 22.5 kg each and the operator lifted between 600 and 900 cases during an eight-hour shift.
Problem
The job involved the repetitive lifting of significant weight. Because of the location of the pallet, the operator stooped down when filling the lowest layers of the pallet. The operators reported pain in the lower back which they attributed to the task.
Finding a solution
A vacuum hoist was installed that supported virtually the entire weight of the case. The operator only had to exert a relatively small lifting, pushing or pulling force to manoeuvre the load.
Also, the operator was in a less stooped posture when placing the cases on the lowest layers of the pallet. More hoists are planned for installation at the other packaging lines in the plant.
Results
The level of physical effort necessary to transfer 600–900 cases from the conveyor to the pallet was greatly reduced.
The operators no longer experienced back pain from this task.
Although the palletising was performed slightly slower when the vacuum hoist was first introduced, eventually the operator could perform the task at the same rate but with much less physical effort.
The palletising of goods is widely performed in the foods industry. By supporting the weight of the load, and allowing the operator to move the load with less effort and in an improved posture, vacuum hoists can greatly reduce the compression on the back and the risk of long-term injury. In addition to handling boxes, the hoist can be used to move items in sacks.
Expanding on the solution provided
The provision of a vacuum lifter for box, carton or case handling lifter supported by rolling beam or swing arm jib is available with either electric power or pneumatic power.
Need Help with your handling applications? Talk to an expert call 0161 223 1990 or email sales@dale-lifting.co.uk - For a no-obligation quotation
---