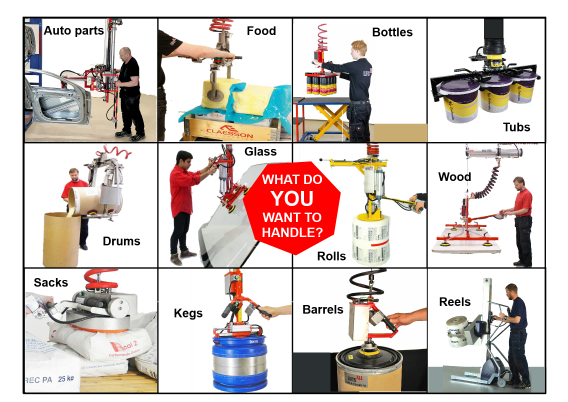 Is there an answer for your load handling problems? - No matter what you want to handle there is almost certainly a device that's been designed to lift it. And, if there isn't, we can design the perfect solution.
As the HSE say - As an employer, you must protect your workers from the risk of injury from hazardous manual handling in the workplace. Manual handling means transporting or supporting a load by hand or bodily force. It includes lifting, putting down, pushing, pulling, carrying or moving loads. A load can be an object, person or animal.
The law sets out how employers must deal with risks from manual handling:
Avoid hazardous manual handling, so far as is reasonably practicable
Assess the risk of injury from any hazardous manual handling operations that cannot be avoided
Reduce the risk of injury from hazardous manual handling to as low as reasonably practicable
Whether it's lifting sacks or bagged goods. loading awkward boxes or tubs, emptying drums, loading reels, or whatever. You can rest assured we have the right tool for the job.
CLICK HERE to see some solutions or talk to an expert on 0161 223 1990