Custom Pallet/Load Handling Safety Gate Design - Pallet Safety Gates - Pallet Handling - Material Handling
SKU
500080-Custom Pallet Gate
Custom Pallet/Load Handling Safety Gate Design
Quotation Request Questionnaire
Please select the nearest situation to your actual location (See examples 1 to 4 left). Don't worry if the proportions are not as your actual layout, You can upload a sketch, drawing or photo if required. We can discuss finer details once we have your quote request.

Enter your dimensions, Where dimensions are not applicable enter NA
Price on Request
Key Features
Not sure which type of safety loading gate you need? - we're here to help!
Customised designs to suit your exact requirements - Conformance with BS EN ISO 14122-3:2016.
Use our online quote request form to tell us about your application, to obtain your no-obligation competitive quotation
We supply safety loading gates for almost any application - Mezzanines, work platforms, high level openings and doorways.
Expert advice is just a phone call away - 0161 223 1990
Need a Custom Pallet Gate to your exact dimensions or special application?
There are numerous standard designs of pallet gates on the market; however, some of these devices may not be suitable for your specific application and location. You may want to consider a gate system specifically designed to meet your needs. Guardrail openings and high-level doorways are constructed and function differently, a specific design of an all-around protection safety gate may be needed for your situation, one size does not fit all!
No Problem - Tell us where your safety pallet gate is to be used?
Loading by forklift to a mezzanine or platform
Loading by hoist  to a mezzanine or platform
Loading onto a balcony with an opening or doorway
Loading through an opening or doorway (If this has a runway beam (See fig.2) tell us the height to underside of beam E. in the additional information panel).
Please select the nearest situation to your actual location. Don't worry if the proportions are not as your actual layout, You can upload a sketch, drawing or photo if required. We can discuss finer details once we have your quote request.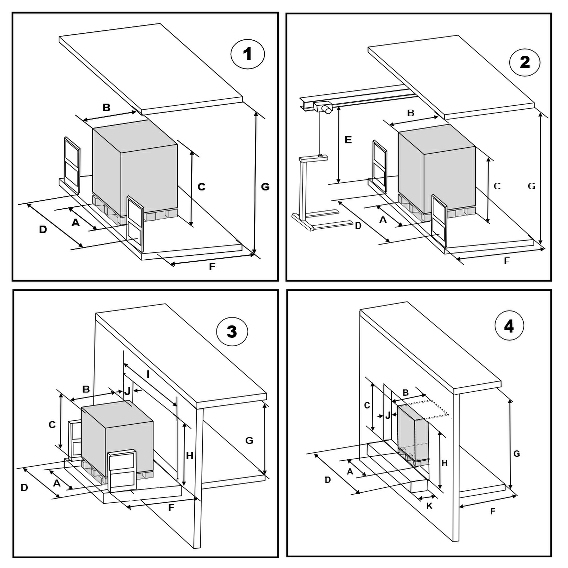 Key Dimensions required
A. Pallet or load width
B. Pallet or load depth
C. Pallet or load height
D. Opening width (Gap)
E. Height to underside of the runway beam
F. Operational depth available
G. Headroom or ceiling height
H. Height of opening
I. Width of opening or doorway
J. Wall thickness
K. Depth of the ledge
Need more help? Call 0161 223 1990 to ask to talk to an expert to guide you through the process or email: mezzbarriers@dale-lifting.co.uk